Spacegraphs
A photo-essay that explores the experience of the city through long exposure photographs of Paris.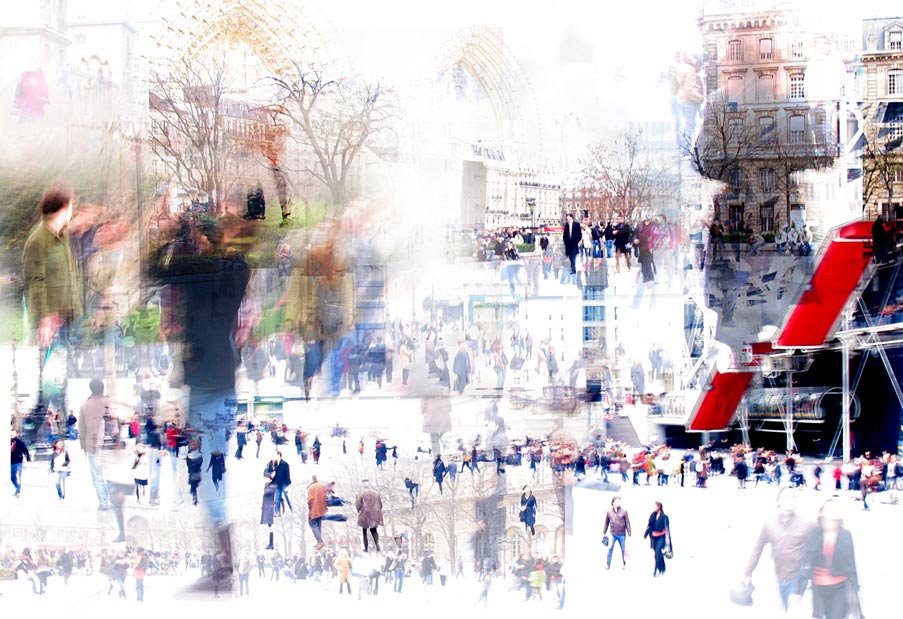 How does the tourist perceive the city he or she visits? How do his or her expectations and idealizations concerning a particular place shape his or her perception?
Spacegraphs is part of a research on urban mobility focused on the tourist's experience of the city. The photographs were taken on Sunday afternoons – one of the most tourist-crowded days in Paris – near the Notre-Dame cathedral and the Pompidou Centre.
On Spacegraphs, the city presents itself only partially, as if it were incomplete. Few elements emerge from large white areas, creating a pulsating, syncopated visual rhythm. The excess of light removes some key visual aspects of the city, such as the skykine and the pavement, thus unveiling the experience of those who stroll along the city streets: their flows, stops, path changes and speed.
Based on the concepts of space and image of the city, developed respectively by Michel de Certeau and Kevin Lynch, the long exposure technique was adopted with a view to transforming the photographed landscape. The goal is to delineate space instead of portraying places.